Here are the 20 best free plugins for Adobe After Effects. These plugins will save you time, improve your workflow, fix missing features in After Effects & unlock new possibilities for your animation and motion graphics.
1. Reposition Anchor Point
This Free script Allows you to reposition the anchor point of the selected layers around the layer edges while keeping the layers at the same position in the comp window.
2. Create3DShapes
Creates a 3D box, a 3D sphere, a 3D cylinder, a 3D pyramid, a 3D Menger sponge, a 3D Platonic Solid, and even 3D falling dominoes with user-defined layers.
3. Decompose Text
Breaks up the text by character, word, or line into separate layers.
4. AE Juice Gif
AEJuice GIF exports GIFs from After Effects in 1 click and it's free!
5. Composition Setter
Displays a palette with controls for changing the size, pixel aspect ratio, duration, frame rate, preserve options, motion blur, and renderer of the selected compositions, and all nested compositions (pre-comp layers) in it.
6. Advanced Selection
Expands the capabilities of After Effects to select layers. It offers a vast amount of filters you can choose from to narrow down your selection, like layer types, layer options, blending modes, search by name, label colors, and more.
7. Bendy Nulls
Bendy Nulls is a simple dockable panel that will apply a global CC Bend It effect to a Selected Layer.
The code behind Bendy Nulls has now been streamlined offering better implementation with K Bar. Simply open the script with K Bar to install it, no need to copy the code via the Headless script like in previous versions of the tool.
Bendy Nulls now adds a Grow Bounds effect with an expression to Raster layers which extends the Bounding Box of the artwork based on the positioning of the Start and End nulls. This eliminates the need to precompose Raster layers in order to make the CC Bend It work effectively.
8. Shape Repeater Baker
Shape Repeater Baker is a tool to create individual shape instances from the repeater. It is similar to "Current state object" in Cinema 4D.
9. Rigged Box
The comprehensive box preset for After Effects.
By linking to a neatly designed pseudo effect, boxes can have scale vertically and horizontally… independently. Boxes can scale from any edge or corner using the X and Y Anchor properties, an especially useful feature for UI design.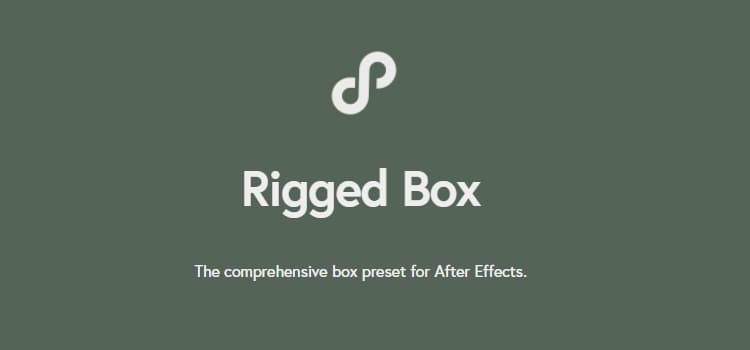 10. Type Array
Text animation in After Effects is bizarrely difficult. Existing tools offer good options for introducing bodies of text over a period of time, but applying detailed animations to each index (character, word, or line) usually requires splitting onto multiple layers. I combined techniques from around the web to create a simple, versatile solution that applies your custom interpolation to each index with delay or markers. A result is a tool that does however much or little you need it to, then gets out of the way.
11. Displacer Pro
Displacer Pro is a brand new free plugin that takes the After effects Displacement map and injects it with a much-needed power boost! No longer do you have to use the clunky and slow displacement map that is built into After Effects! Now you can use Displacer Pro, the brand new free after effects plugin that will change your life.
12. Sortie
Provides quick, powerful methods to sort layers vertically in the timeline.
13. Rift
A Powerful Timeline Tool that Provides methods to shift, sequence, stagger or randomize layers properties like in and out points, keyframes, markers, and more, presented in a compact UI.
14. True comp duplicator
Creates a complete duplicate of selected comp hierarchies including subcomps with many options.
15. Hylian
Hylian is a single button click to duplicate layers in After Effects, but each keyframed property will have an expression added to the property link back to the original. It's simple but great for mattes or anything that works better driven by a single layer.
16. Buttcapper
The lack of a simple way to change Stroke Caps and Joins in After Effects (similar to Illustrator) doesn't make a lot of sense. After years of pointless clicking through shape layer properties and endless nesting, we had enough.
Yes, ButtCapper has a silly name, but if you work heavily with strokes in AE you'll really enjoy how much less of your life will be wasted. It's free. Use it.
17. Saber
Create High-quality energy & lights beams, Realistic Glow falloff, Built-in Distortion, and Dynamic Text and Mask Outlines with Saber.